Plagionotus (Plagionotus) detritus (Linnaeus, 1758)
Subfamilia:
CERAMBYCINAE
/ Tribus:
CLYTINI
---

[Photo © M.Hoskovec]
---
A broadly distributed species (from Europe to Transcaucasia and North Iran). It develops in deciduous trees, especially in oaks (Quercus spp.), also in hornbeam (Carpinus), beech (Fagus), chestnut tree (Castanea), etc. Larvae feed under (or in) the bark of sun-exposed standing or fallen trunks and thick branches.

| | |
| --- | --- |
| Body length: | 10 - 20 mm |
| Life cycle: | 1 - 2 years |
| Adults in: | May - July |
| Host plant: | polyphagous in deciduous trees, in Central Europe prefers oaks (Quercus spp.) |
| Distribution: | Europe, Russia, Caucasus, North Kazakhstan, Transcaucasia, Iran, Near East |


The beetles in copula (and both mounted specimens) were reared from larvae found under a thick bark of a dead standing oak (Quercus robur) trunk in Zbečno (Central Bohemia, Czech Republic) where the species is quite common (Rejzek and Rébl; ❖). The male of Plagionotus detritus was collected and photographed on an oak log in Zbraslav (Prague, Central Bohemia, Czech Republic).

Collected by M.Hoskovec

---

[❖]

Rejzek M. and Rébl K.:
Cerambycidae of Křivoklátsko Biosphere Reserve (Central Bohemia) (Insecta: Coleoptera).
Mitteilungen des Internationalen Entomologischen Vereins e. V., Frankfurt a. Main, Supplement VI: 1–69, 1999.
---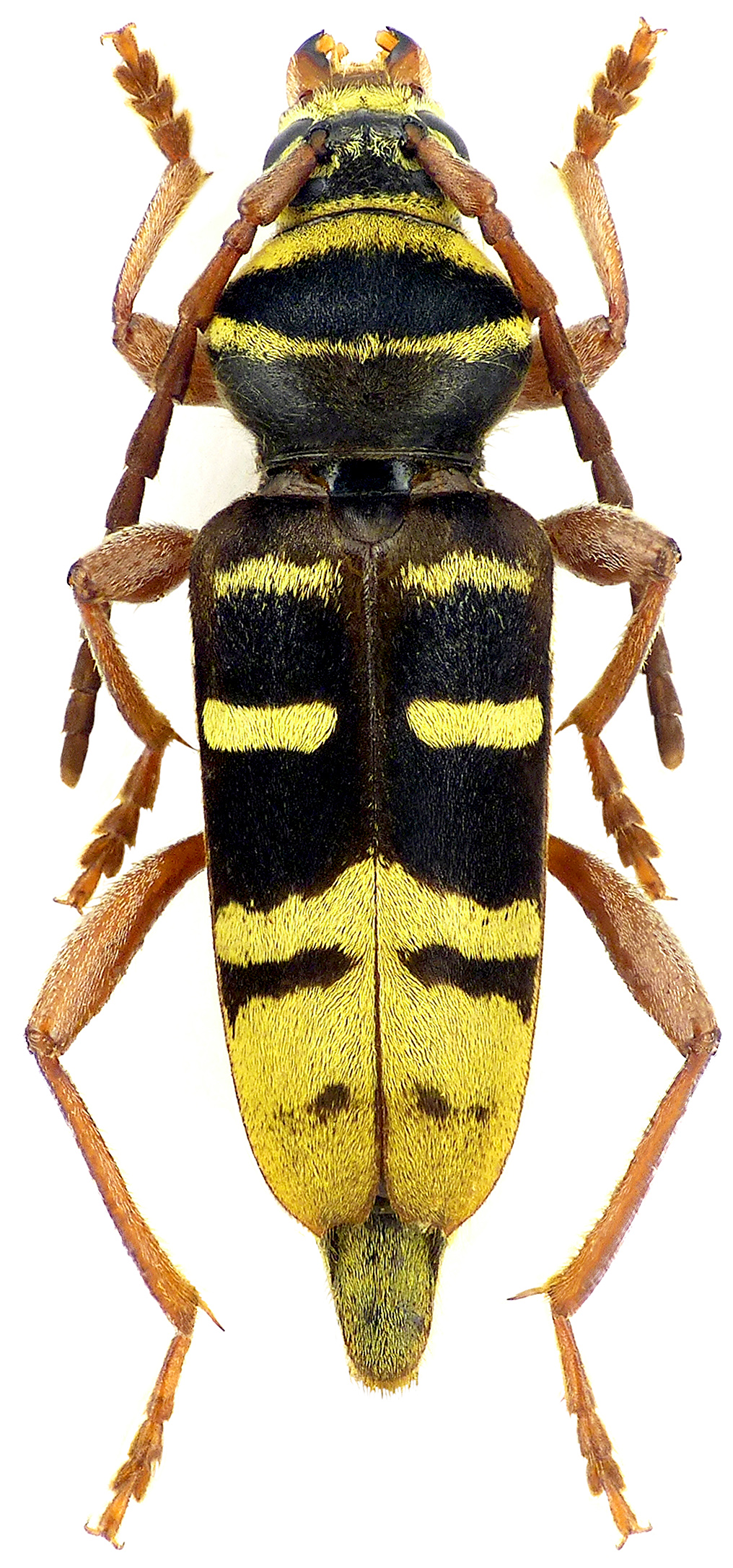 [Photo © M.Hoskovec]
---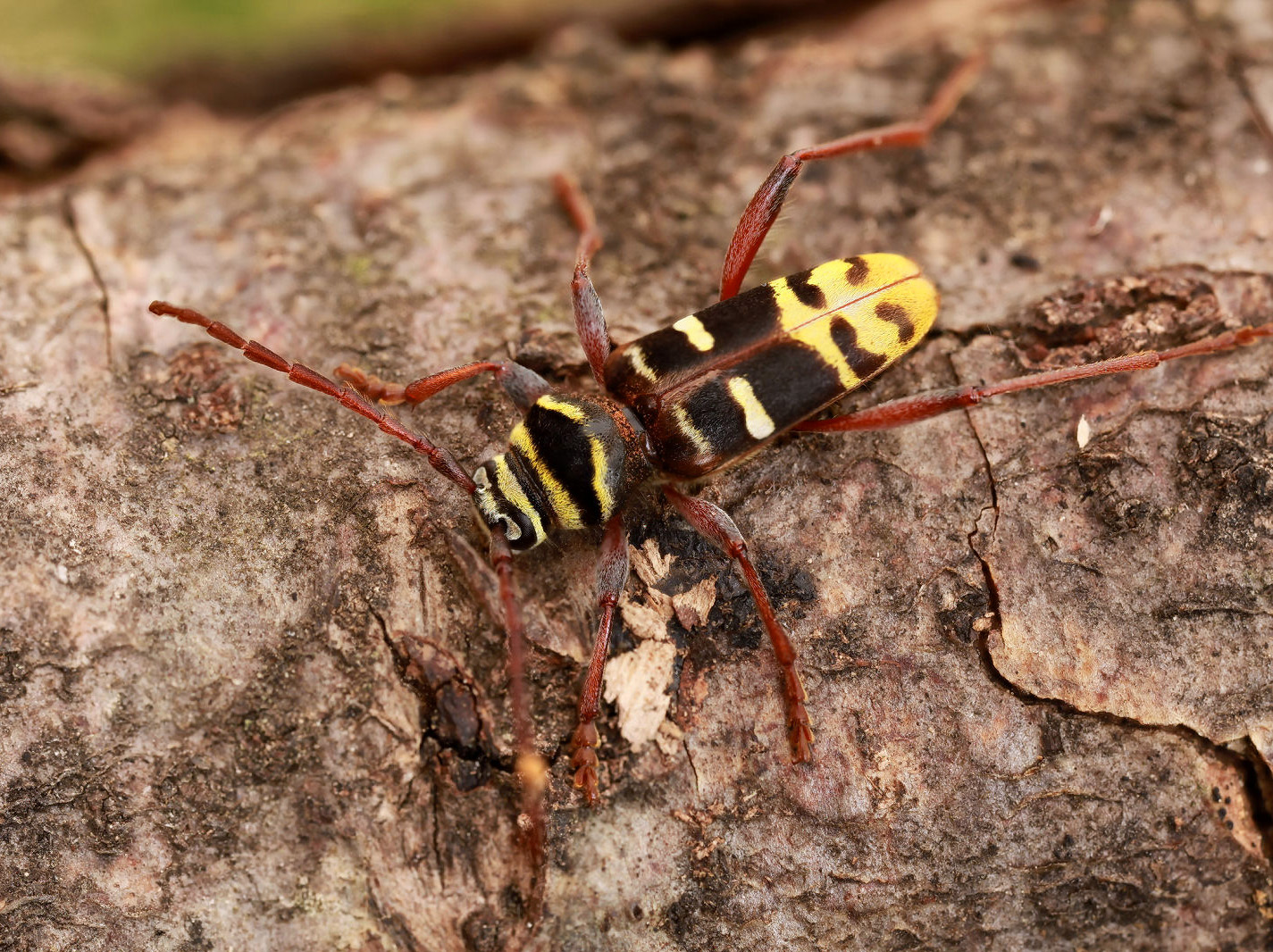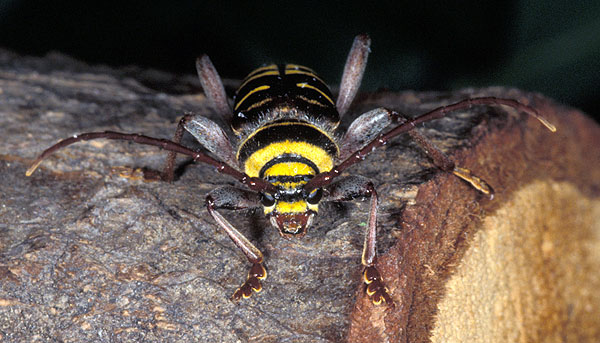 [Photo © M.Hoskovec]
---
Subfamilia: Cerambycinae Latreille, 1802
Tribus: Clytini Mulsant, 1839
Genus: Plagionotus Latreille, 1829
Subgenus: Plagionotus Latreille, 1829
Species: Plagionotus (Plagionotus) detritus (Linnaeus, 1758)