Purpuricenus neocaucasicus Rapuzzi et Sama, 2013
[=
Purpuricenus renyvonae neocaucasicus
Rapuzzi et Sama, 2013]
Subfamilia:
CERAMBYCINAE
/ Tribus:
TRACHYDERINI
---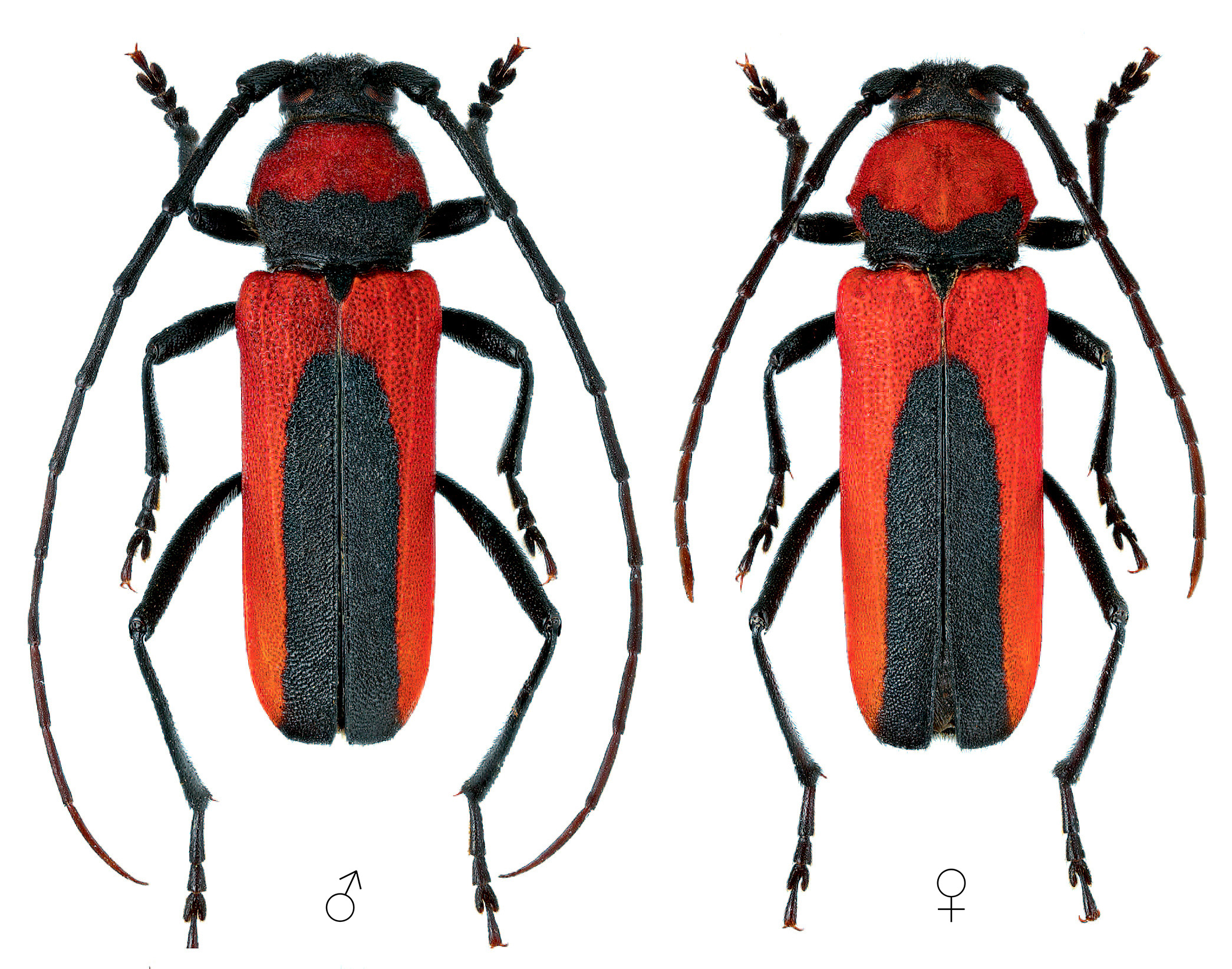 [Photo © Kirill V. Makarov]
---
Purpuricenus neocaucasicus, a Caucasian species known from South Russia, Georgia and North-Eastern Turkey, has been described from Caucasus as Purpuricenus renyvonae neocaucasicus by Pierpaolo Rapuzzi and Gianfranco Sama in 2013 [▽]. Into a species rank it was elevated by Mikhail Danilevsky in 2015 [✧]. The occurence in South Russia and taxonomic status of the related species P. caucasicola Danilevsky, 2015 was reported and discussed by Alexander I. Miroshnikov in 2017 and 2018 [❖]. According to the unpublished data larvae of this species, inhabiting xerothermic sibljak* formations, develop in deciduous trees (Quercus, Acer).

| | |
| --- | --- |
| Body length: | 10 - 20 mm |
| Life cycle: | 2 years |
| Adults in: | June - August |
| Host plant: | probably polyphagous in deciduous trees |
| Distribution: | Caucasus (South Russia, Georgia, NE Turkey) |


The depicted beetles were collected using wine traps in coastal region (Malyy Utrish, Bol'shoy Utrish settlements) of Krasnodar Krai (Southern Federal District, Russia) by A.I. Miroshnikov.

---

[▽]
Rapuzzi P. and Sama G.:
Revision of the Purpuricenus interscapillatus species - group and allied taxa (Coleoptera, Cerambycidae).
Fragmenta entomologica, Roma 45 (1-2): 143-171, 2013. [download ]

[✧]
Danilevsky M.L.:
A new species of the genus Purpuricenus Dejean, 1821 (Coleoptera: Cerambycidae) from the Caucasus.
Caucasian Entomological Bulletin 11 (2):385-388, 2015. [download ]

[❖]
Miroshnikov A.I.:
Усач-краснокрыл кавказский Purpuricenus neocaucasicus Rapuzzi et Sama, 2013
Красная книга Краснодарского края (Red Book of Krasnodar Krai). Животные. Издание третье. Часть первая. Беспозвоночные животные (Invertebrata). Краснодар: Администрация Краснодарского края, 284–285, 2017. [download ]

Miroshnikov A.I.:
Review of protected beetles (Insecta, Coleoptera) of the Sochi National Park and neighboring territories of the Russian Transcaucadia with notes on some aspects of their monitoring / Обзор охраняемых видов жесткокрылых насекомых (Insecta, Coleoptera) Сочинского Национального Парка и соседних территорий Российского Закавказья с заметками по некоторым аспектам их мониторинга.
The Sochi National Park is 35 years. Proceeding of the Sochi National Park. Issue 12. Sochi, Optima, 491 pp [pages 338-391], 2018. [download ]

---

*Sibljak (Šibljak/Шибляк): vegetation formation of deciduous, semi-natural or natural shrubs, widespread in sub-Mediterranean areas of South-Eastern Europe, especially in the Balkan Peninsula, Crimea and South Russian Transcaucasia.
---
Subfamilia
Cerambycinae Latreille, 1802
Tribus
Trachyderini Dupont, 1836
Genus
Purpuricenus Dejean, 1821
Species
Purpuricenus neocaucasicus Rapuzzi et Sama, 2013