Mallosia (Semnosia) interrupta Pic, 1905
ssp. interrupta Pic, 1905
[=
Mallosia (Eusemnosia) interrupta interrupta
Pic, 1905]
Subfamilia:
LAMIINAE
/ Tribus:
SAPERDINI
---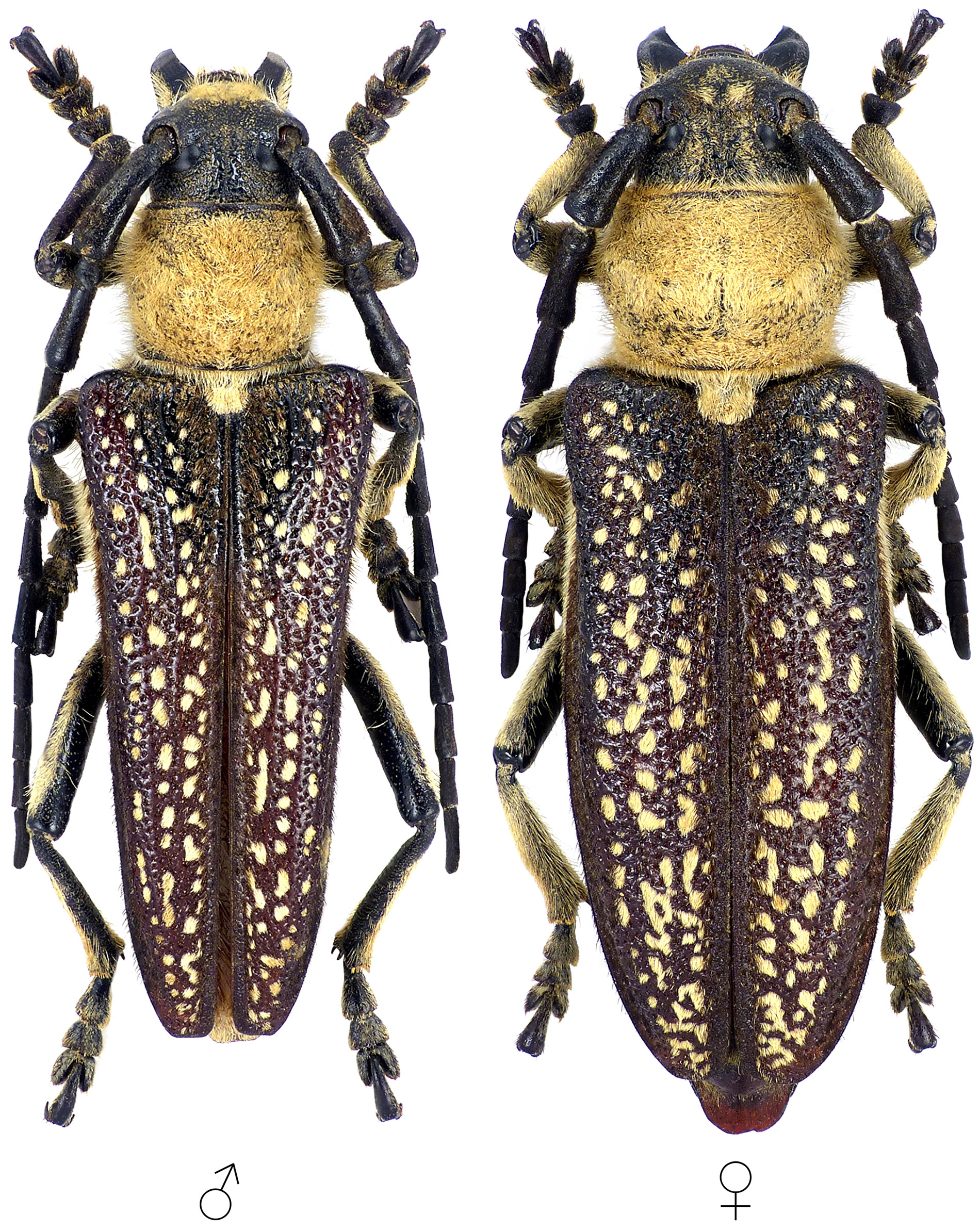 [Photo © David Navrátil & 8K postprocessing M.Hoskovec]
---
Mallosia interrupta has been described from Van lake region (Eastern Turkey) as Mallosia (Semnosia) Scowitzi var. interrupta by Maurice Pic in 1905 [▽]. Into valid specied it was raised by Mikhail Danilevsky in 1992 [✧], where he also well described its differences from M. scowitzi.

Taxon Mallosia (Eusemnosia) interrupta Pic, 1905 was divided in Turkey by Ahmet Ömer Koçak and Muhabbet Kemal into two subspecies in 2013 [❖]. The nominate subspecies (brown elytra) is occuring in southern mountains at Van Lake (Bitlis province), the newly described Mallosia interrupta capulcu (black elytra) is known only from Bacavan Mountains (Siirt province).

| | |
| --- | --- |
| Body length: | 15 - 40 mm |
| Life cycle: | 1 year |
| Adults in: | May - June |
| Host plant: | Ferula spp. and Prangos spp. (Apiaceae) |
| Distribution: | Iran?, Turkey |


The depicted living beetles were photographed on the host plant (Prangos ferulacea) in mountain valley in Güreşçi environs (Bitlis province, East Turkey) and in meadows at southern shore of Van Lake (3 km E of Tatvan, Bitlis province). The mounted specimens were collected in Sentepe environs (2120 m a.s.l., Bitlis province, Turkey) on June 24, 2008.

Collected by M.Hoskovec and V. Kozel

---

[▽]
Pic M.:
Contribution à l'étude du genre Mallosia Muls.
Matériaux pour servir à l'étude des Longicornes 5 (2): 24-36, 1905. [download ]

[✧]
Danilevsky M.L.:
New species of Cerambycidae from Transcaucasia with some new data (Insecta: Coleoptera).
Senckenbergiana Biologica, Frankfurt am Main 72 (1/3): 107-117, 1992. [download ]

[❖]
Koçak A.O. and Kemal M.:
Mallosia (Eusemnosia) species in South East Turkey (Cerambycidae, Coleoptera).
Centre for Entomological Studies Ankara, Miscellaneous Papers 159: 1-3, 2013. [download ]

Özdikmen H. and Aytar F.:
Subgeneric arrangement of Mallosia Mulsant, 1862 with three new subgenera, and a new species from Turkey (Coleoptera: Cerambycidae).
Munis Entomology & Zoology 7 (2): 653-662, 2012. [download ]

---

Mallosia (Semnosia K. Daniel, 1904) = M. (Eusemnosia Özdikmen & Aytar, 2012 type species Saperda mirabilis Faldermann, 1837), syn. nov. Saperda mirabilis Faldermann, 1837 is typical representative of Mallosia (Semnosia K. Daniel, 1904).


Danilevsky M.L.:
Chrysomeloidea I (Vesperidae, Disteniidae, Cerambycidae), Updated and Revised 2nd Edition
Catalogue of Palaearctic Coleoptera Vol. 6/1, Brill, Leiden-Boston, 712pp, 2021.
---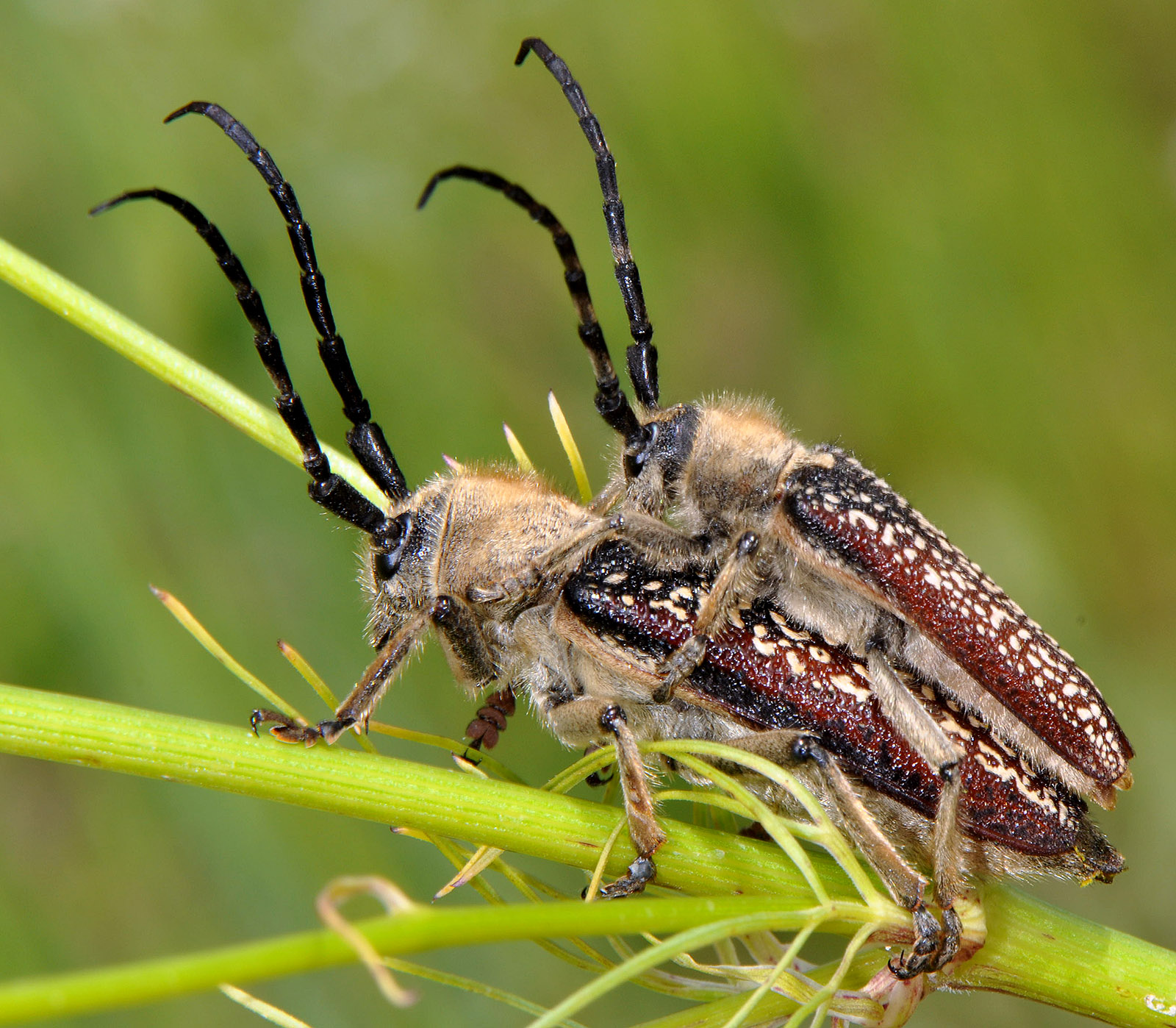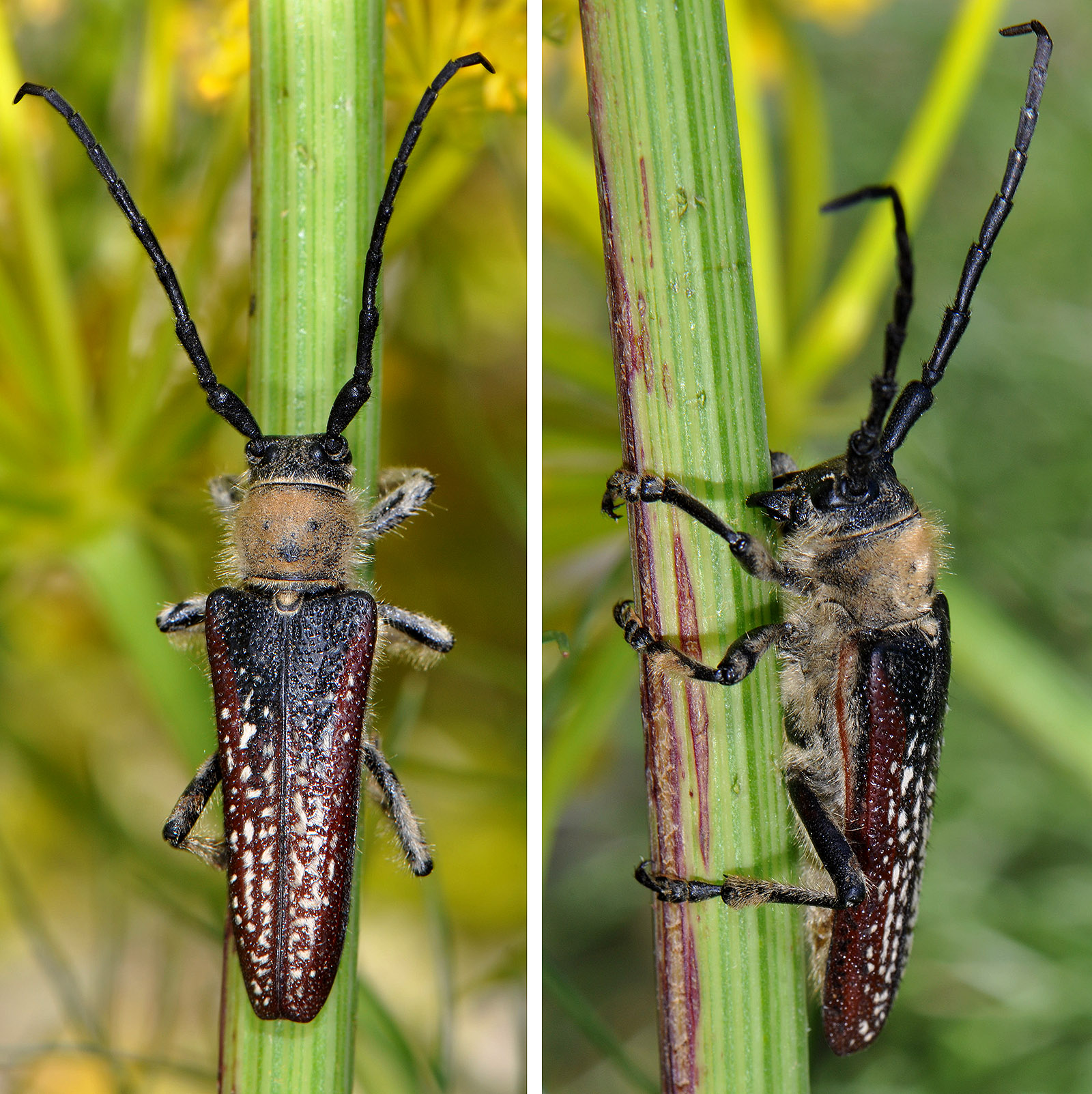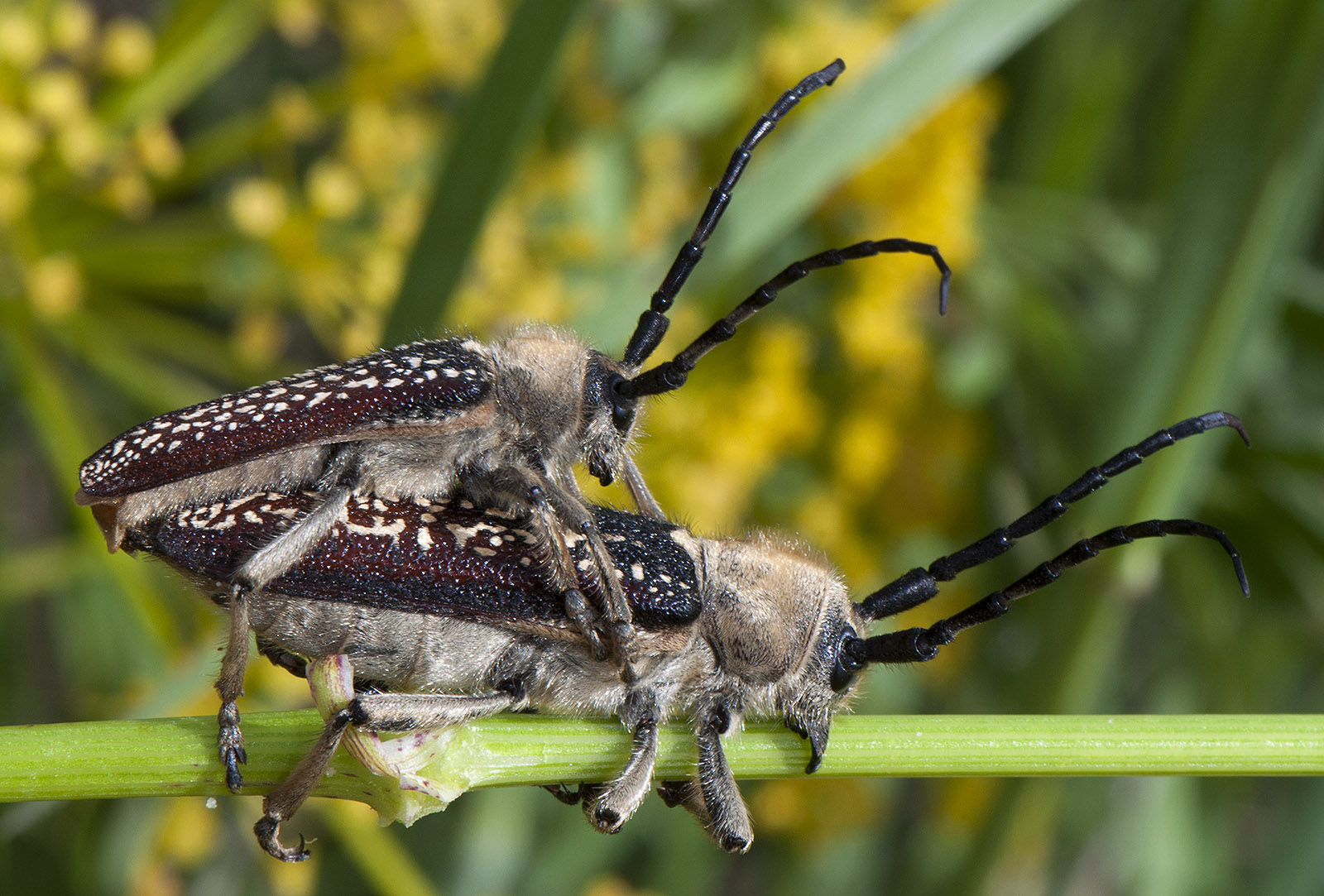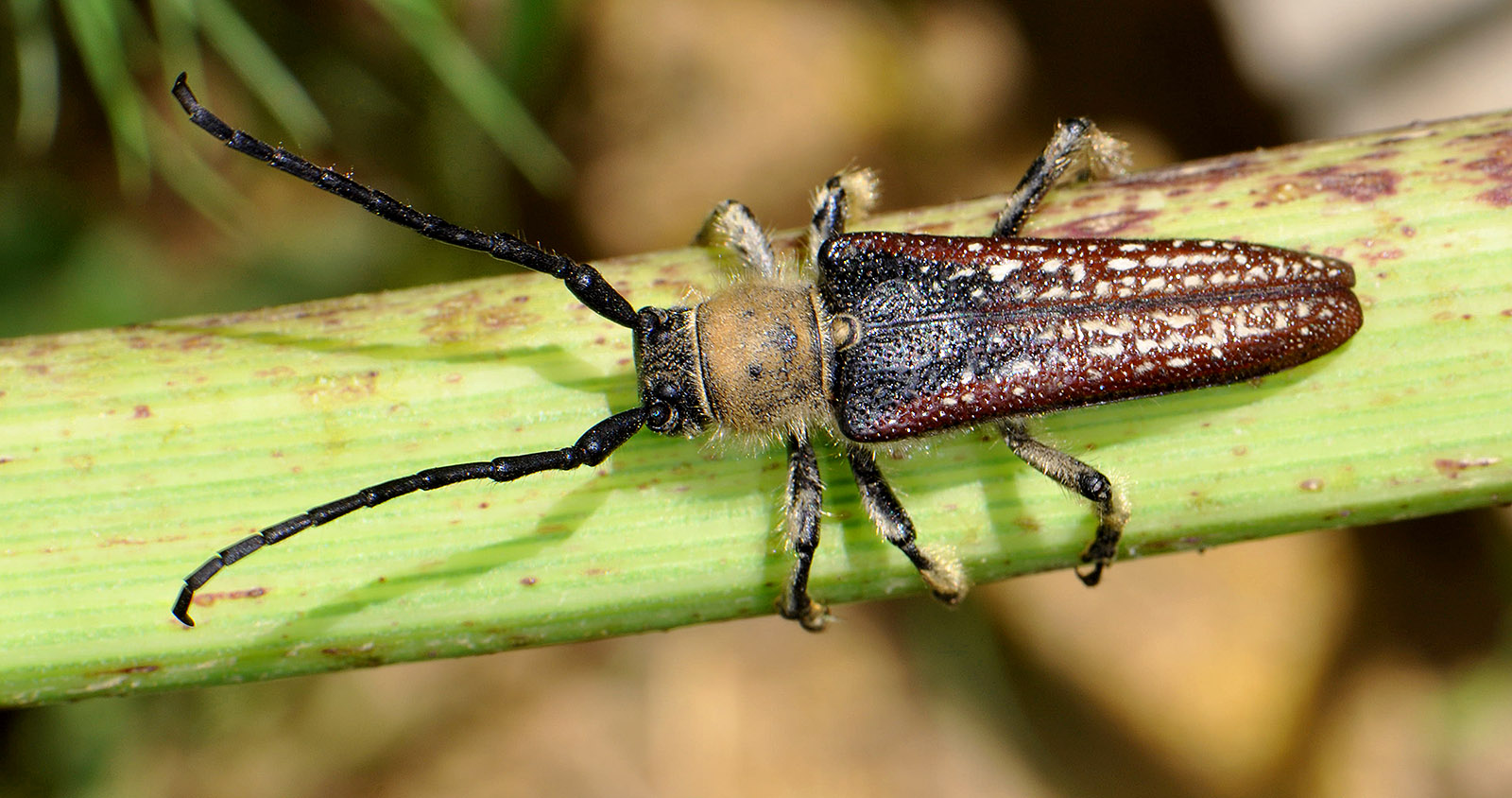 [Photo © M.Hoskovec]
---
Subfamilia
Lamiinae Latreille, 1825
Tribus
Saperdini Mulsant, 1839
Genus
Mallosia Mulsant, 1863
Subgenus:
Semnosia K. Daniel, 1904
Species
Mallosia (Semnosia) interrupta Pic, 1905
Subspecies
Mallosia (Semnosia) interrupta interrupta Pic, 1905